Your bed is covered in bacteria … Let's change that.
Incredibly soft and beautifully designed, our sheets and pillowcases are engineered with some of the most advanced silver fibers in the world. These innovative fibers inhibit the growth of unwanted bacteria directly on the fabric surface – and will never wash away.
As Seen On: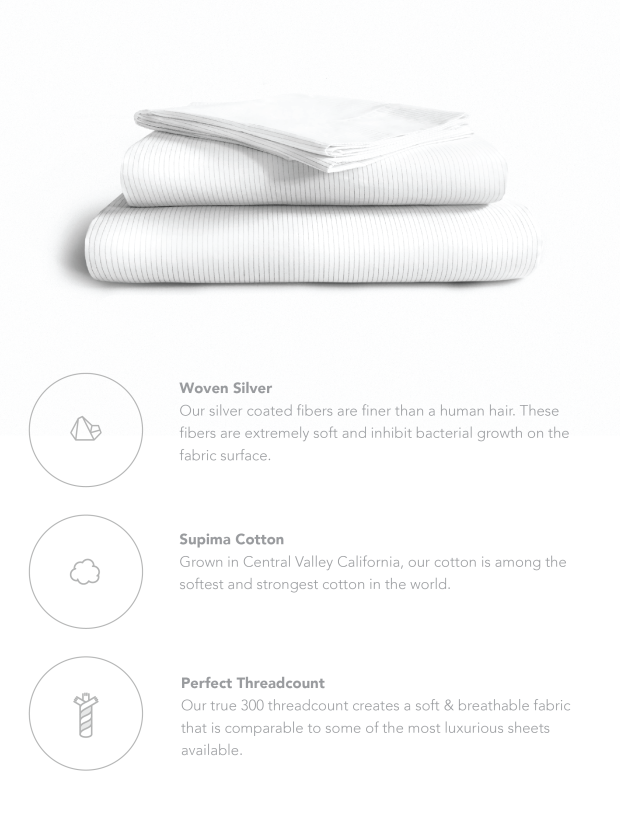 Why are we laying our fresh faces onto a pillowcase that hasn't been washed in days?
After just one night of use, your pillowcase and bed sheets can accumulate a horrifying array of bacteria, allergens and fungus. Dermatologists recommend washing your pillowcase every two or three days. But who has time for that?
The average adult washes their sheets every 2-3 weeks.
Studies suggest that some men change their sheets just four times a year and women, every two and a half weeks ... Sound about right? Our fabric is engineered to stay fresh, clean and comfortable night after night — regardless of how often you toss them in the washer.
What makes Silvon special?
Antimicrobial Silver: By fusing innovative fibers with natural silver, Silvon prevents the growth of unwanted bacteria directly on the fabric surface.
Completely Permanent: Similar products wash out or degrade in strength over time. However, because the silver is woven directly into our fabric, it will never wash away.
Incredibly Soft: We've paired our technology with Supima cotton grown right here in the USA. Supima cotton is among the softest, most durable cotton in the world.
All Natural – No Chemicals: Similar products use harsh chemical treatments to adhere silver particles to fabrics. We use the real thing – 99% pure natural silver.
Eco-Friendly: With Silvon we find new uses for the materials that naturally exist right in front of us. These advanced textiles also increase the time you can go between launderings. This helps save water and energy on a large scale.
Pure Natural Silver
Silver is naturally oligodynamic – simply put this means that it prevents the growth of bacteria. By fusing our fibers with natural silver, these properties are permanently ingrained in the fabric.
We couldn't help but notice all the amazing qualities of natural silver. In fact, it made us wonder why such an incredible, natural resource had never been used in bedding before.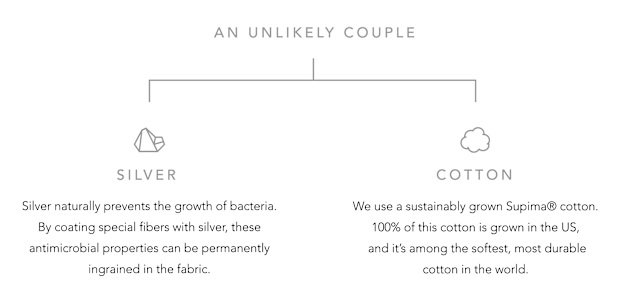 Silver You Can See:
500% zoom
How It Works: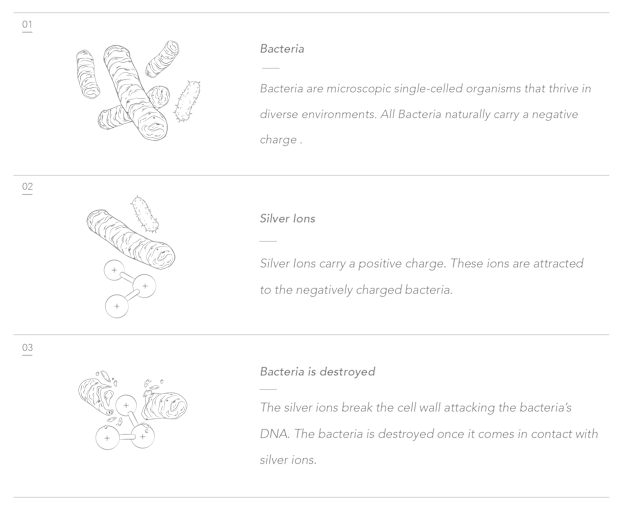 The Science
Basically, silver carries a positive charge, and bacteria is negative (go figure). The silver is attracted to the bacteria, breaks its cell wall and the bacteria is destroyed before it has a chance to reproduce.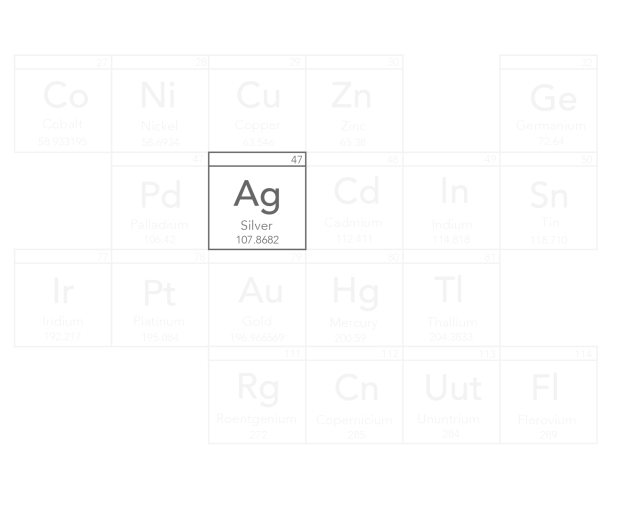 Advanced technology now allows us to weave silver coated fibers directly into our fabric. These silver fibers are proven to prevent bacterial growth on the fabric surface.
Does it work?
This technology has been verified by more than a decade of testing at research institutions including Pennsylvania State University and Cornell University. Silvon is tested in accordance with the highest antimicrobial standards (ASTM E2149). Furthermore, Our fabric is put through rigorous wash tests to ensure protection that will last the lifetime of the product.
Great. But comfy?
Advanced silver fibers and supple Supima cotton come together to create the perfect sleep surface.
A pillowcase isn't much good if it's not conducive to an amazing night's sleep. That's why we combined our technology with long-staple Supima cotton. One hundred percent of this cotton is grown in the US, and it's among the most durable, softest cotton in the world.
How It's Made
No harsh chemicals, no nanotechnology – those were our guidelines. We've partnered with a US-based antimicrobial tech company that uses natural silver to prevent bacterial growth on fabrics. Their proprietary process completely covers advanced fibers with silver while allowing them to remain extremely soft, flexible and comfortable.
Responsibility
Silvon is committed to manufacturing products that surpass the most stringent safety and environmental protection standards. All of our products abide by strict guidelines, and supports human ecology through bio-compatibility and the absence of harmful substances in the manufacturing
Oh, and if you have a furry friend?
Your pet may be bringing more than love and warmth to your bed. Your four-legged friend is another source that enables bacteria, mold and allergens to grow.
Color Options
Silvon is now available in two colors, Grey and White. You can select any reward, and at the end of the campaign we will contact all of our backers to confirm your color selection.
The Silvon Sheets
The Silvon Sheets are now available in both color options. You can select any size, and at the end of the campaign we will contact all of our backers to confirm your color selection. Each sheet set includes 1 fitted sheet, 1 flat sheet and 2 pillowcases.
Size Guide:
Simplicity in design
We think less is more, which is why we don't include unnecessary patterns or detailing. Instead, we designed the simplest, most comfortable fabric we could, using premium natural materials, without the premium price.
Details Make The Difference
From pillowcases with a tidy envelope closure to sheets with grippy elastic, all of our products incorporate thoughtful details with you in mind.
Care Instructions
Although our fabric helps keep bacteria from swarming your pillowcase, dust and other debris can sometimes accumulate. We recommend washing every 10-14 days with your normal laundry. Wash it on a cool or warm cycle, and tumble dry on low heat or hang to dry. Do not use chlorine bleach.
Advanced textiles can also be beneficial to the environment. Silvon will increase the time you go in between launderings, saving water and energy.
Why Us?
We don't wear the same tee shirt for weeks on end – why do we lay onto a pillowcase that hasn't been washed in days? This simple question became the beginning of an incredible journey to make a revolutionary fabric that would, hopefully, create a whole new category of bedding.
Almost two years ago we launched our first product, SleepClean. It was an instant success. We had thousands of happy customers, and can be found in retail stores around the world.
But we constantly ask whether there is a better way. We wanted to create a solution that was completely permanent and avoid the use of any chemicals in our manufacturing process. We searched for new ways to use the world's smartest natural materials. After years of researching, testing, and chasing this vision, we've harnessed the incredible benefits of natural silver to create a pillowcase and then bed sheets like no other.
Rewards:

Add-ons and Adjusting Your Perk
If you would like to add additional products to your pledge, simply add the price of the additional product to your current pledge amount. If you would like to change your reward selection all together follow the steps in the link below:
We're Shipping!
We're Shipping! It is with great excitement that we announce that shipping has begun! We're incredibly proud of how far we've come – and we're not slowing down. Our first batch of sheets and pillowcases arrived at the Silvon warehouse and we're starting to ship orders right away.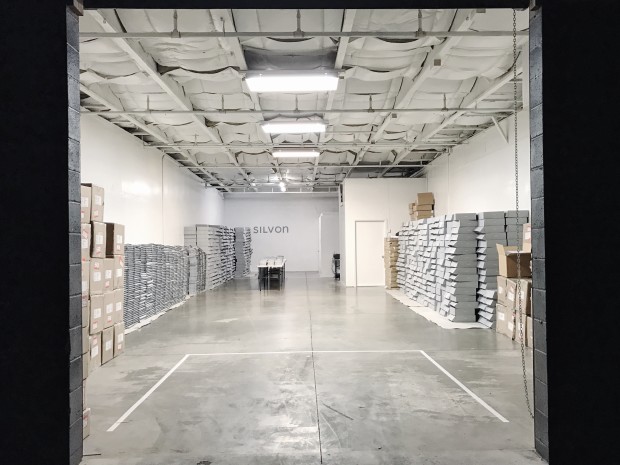 Inventory will continue to arrive at our warehouse in increments over the next few weeks. We are perfectionists, and wanted to make sure that all of our backers receive an amazing product – not something that was rushed through production. Good things take time - and we cannot express how thankful we are for your early support, patience and optimism.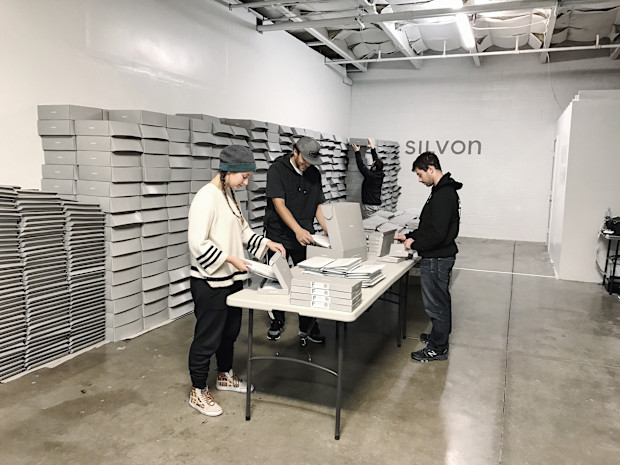 Thank you – really.
There's nothing more important than sleep. And it all starts with creating the right environment. We want to bring textile innovations to the bedroom – and believe that Silvon is a product that everyone can benefit from. We're glad that you share this vision and we're grateful to you for helping us bring this product to the world.
*These antimicrobial properties are incorporated to inhibit bacterial growth only on the product itself. Silvon is not a disinfectant and does not protect the user or others against food-borne illnesses or disease. We still recommend the use proper hygiene and cleaning procedures.